CXL is the premium marketing education destination.
Become great at
technical content marketing
Get the technical skills to use data to identify your target audience, discover the content they need, and learn how to produce it at journalistic standards—while proving the ROI for all of it.
Do deep research into your target audience to understand exactly who they are and the challenges they face.
Identify the topics that you're best positioned to cover based on advanced data analysis.
Create and execute a strategy that meets the standards of journalists, not marketers.
Minidegree length: 56h 23min
Derek Gleason
Content Lead @ Shopify
Start 7-day trial for $1 Buy just this program
Some of the companies that train their teams at CXL:



The best content marketers are highly technical
Content marketing promised to turn businesses into their niche's premier media organization—then delegated that task to amateurs.
Technical content research and production skills will separate you—and your work—from the rest.
You will never be a central part of your company's growth team if you take a list of keywords from SEO analysts and convert them into blog posts.
If your "interviews" are entry-level questions that coalesce into nothing more than dry, disjointed round-ups, you will never produce content that builds a brand.
If your original "studies" are woefully biased surveys, you will never produce research that holds up to scrutiny.
You also need the technical marketing skills to maximize the business value of your end product—how to rank content in search, run valid experiments on email campaigns, etc.
If all you can measure is top-level traffic, or social shares and links (based on dubious third-party estimates), your reporting won't matter.
If your company doesn't track the things you influence—and you don't know how to set up, test, and manage new events—you'll never be able to change that, either.
To prove that marketing wins are business wins, you'll need to translate the outcome of your work into data stories that executives care about—ones that make your CMO look brilliant and pass muster with your CFO.
In this extensive certification program by CXL, you will learn the how-to skills that put you in a whole other (well-compensated) category from the dime-a-dozen "blog writers" whose careers have a low—and ever-lower—ceiling.
What is a Minidegree program?
Course is a puzzle piece. Minidegree is the whole puzzle. It's a complete training program that teaches you everything from A to Z and takes you on a path towards becoming the top 1% marketer.
All of our instructors are hand-picked and carefully vetted. Our approach is straightforward – every instructor needs to be the absolute best in the world at what they do.
Master content marketing at every stage — not just production
Great content marketing starts with a solid foundation of research. You'll no longer wonder if a topic is relevant or waste time creating content based on what you could rank for. You'll focus on what you should rank for—high-value, brand-building content.
You'll be able to create content that brings in a steady stream of organic visitors by developing an SEO-focused editorial calendar. You'll also learn how to manage the behind-the-scenes technical SEO that's essential to help content succeed in search, even years after initial publication.
When you want to branch out to other channels, you'll know how to win over influencers for more social shares, craft effective pitches to earn more links for your greatest stuff, repurpose existing content for other channels, and scale your program as your company grows.
What you'll learn and how
Develop and action on best-in-class user research.
Learn a step-by-step process to identify the content topics your business should own.
Develop an editorial calendar that brings in tons of qualified traffic—users who actually turn into leads (and sales).
Produce magazine- and journal-quality content—the kind of stuff your boss always shares and asks, "How come we aren't doing this?"
Optimize your site for behind-the-scenes, technical SEO aspects to get more of your content onto Page 1 of search results.
Plan content distribution in advance—across multiple channels—so that you know a piece will succeed before you invest in content production.
Audit and edit your on-site tracking to get the data you need to translate the value of top-of-funnel traffic or "thought leadership" content into real dollars.
Ideal for marketers who want to drive bottom-line results with their content
This is not for content marketers looking for cheap hacks or for those chasing vanity metrics.
Technical content marketing is the real deal—empowering you to turn your company into a media organization whose informational and educational content brings in hot leads and closes sales.
Know in advance that the content strategy you develop will work—no more guessing about whether a project has potential.
Learn a start-to-finish approach to content marketing that emphasizes deep research and thorough distribution planning—not spaghetti-on-the-wall publishing.
Acquire the skills to get a content program off the ground or turn an existing program into a first-class content operation.

Chris Out
For the hard skills, we use CXL to enable all our growth hackers and CRO people, who have different clients with different needs. Everybody can follow a tailored course for the stuff that they need to learn. The next thing we do, we create a learning plan per person, and we check in with people to see how fast are they learning. That learning plan is created based on their ambitions, what their clients need, and how they want to evolve.

Jeff B.
The curriculum was extremely diverse and comprehensive. It covered all aspects of Conversion Optimization from analytics, to behavior research, psychology, test setup, statistics, etc.

You can dive deep into areas you are not expert in, and bolster other areas you are already strong in.

Patricia Borlovan
CXL is the most robust e-learning platform for digital marketers. From day one when I discovered their blog filled with well-documented articles up until now, when I am finishing my digital psychology and persuasion degree, they became and remained my go-to source of educational content. The neuromarketing degree helped shape me into a better digital marketer professional and scale my knowledge about 10x. The courses and minidegrees were the best educational investment I have made, and I would always recommend it to anyone who want to nurture their marketing career.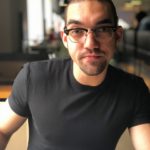 John O.
This platform truly helped develop my career.
I went from specialist to Head of CRO in 7 months. Many "right timed events", I agree, but CXL made me confident.
The hours that I spent covering all the lessons were more than enough to avoid imposter syndrome. I was ready when I needed to be.

Tony G.
CXL is my go-to platform if I want to learn anything about marketing. Purely because the content is so good. Taught by leading practitioners in their field.

If you are serious about learn your topic properly then these courses are for you. The minidegrees are worth every penny. It is an investment in you.

Brandon V.
CXL gave my team the tools to create and run a successful growth team. We were running tests without any thought behind them.
I now have the methodology to be more successful in my day-to-day tasks, and to further my career.

Anthony T.
Using the techniques and strategies in CXL, I now have a method and foundation to support my work.
It gives me the confidence to believe I am moving in the right direction, that I am investing my time effectively and efficiently (AKA not guessing anymore).

Matt R.
Anyone would benefit from CXL, and that goes from interns up to CEOs. That's really been the case in our company.
After their training sessions you're fully equipped… you can go off and implement your learnings straight away.
56h 23min of videos & study material
This content marketing training program is designed to give you advanced level skills in content marketing. You get 56h 23min of video courses.
All of our instructors are hand-picked, and carefully vetted. Our approach is straightforward – every instructor needs to be the absolute best in the world at what they do.
Show off your hard-earned skills and strengthen your profile.
LinkedIn found that people who add credentials to their profile receive 6x more profile views than those who don't.
Add your certificates to your profile, share your accomplishments with the world, and join our alumni network.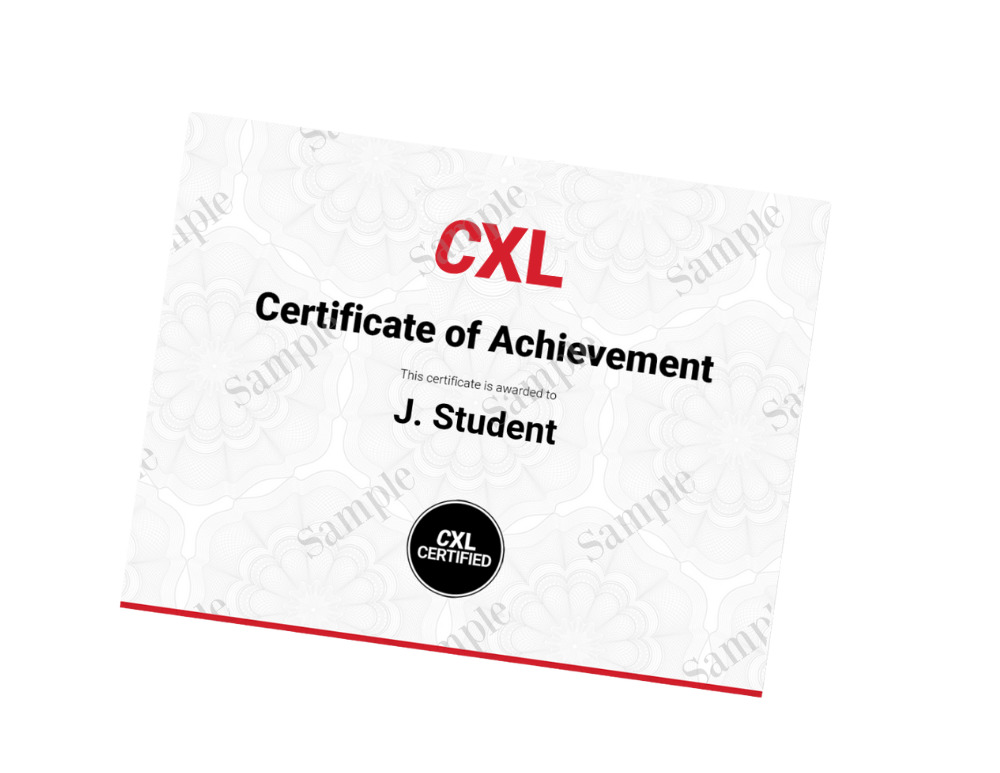 Learn marketing on the job.
Get better results with networking.
Playbook community gives you peer support for every marketing task you face. 90% of marketing tasks are not unique. Someone has already figured it out. Achieve more with less hassle.
Access our library of thousands of marketing playbooks, each showing you how to do a specific marketing task in 10 steps or less, with real-time peer support.
Join our community of marketing experts, ready to support you in getting that promotion or master new strategies, skills, and channels.
Network with some of the world's best marketers and companies and get noticed, hired, or endorsed.
Subscribe to CXL and get access
90+ courses (full list here) on all aspects of data-driven marketing (new courses added every month)
10 minidegrees that give you advanced level skills
Playbook community with 2500+ instructions and peer-support
Got a team, multiple users? Get our Teams All-Access plan instead.
The CXL guarantee
7-day no questions asked money back period
You can immediately apply learnings and improve your results.
Need help convincing your boss?
Click here for a pitch deck, swipe files and tips.
Subscribe to CXL
All plans come with a 7-day trial for $1.
Get access to this and 90+ other training programs.
See plans and pricing
or
Request demo (for teams 5+)