Become great at customer acquisition
Get advanced level skills to drive effective customer acquisition.
This is a program for people serious about building tactical acquisition skills. Get really good at the key paid and organic acquisition channels to drive growth.
Time to complete minidegree (approximation): 24h 59min
Martijn Scheijbeler
VP Marketing @ RVShare
Start 7-day trial for $1 Buy just this program
Some of the companies that train their teams at CXL:



Start acquiring customers profitably and at scale
Learn how to get great return on ad spend for key paid acquisition channels like Google Ads, Facebook Ads, YouTube Ads and LinkedIn Ads.
Learn key content and SEO skills like content marketing strategy, technical SEO, managing editorial calendars for SEO, and much more.
Apply industry-agnostic acquisition processes and frameworks for digital marketing.
In this extensive certification program by CXL, you will learn the methodologies and processes that top growth executives have used to execute campaigns for exponential and continuous growth.
At the end of the program, you'll be able to implement processes, tools, and techniques to grow your business, no matter the industry you're in.
What is a Minidegree program?
Course is a puzzle piece. Minidegree is the whole puzzle. It's a complete training program that teaches you everything from A to Z and takes you on a path towards becoming the top 1% marketer.
All of our instructors are hand-picked and carefully vetted. Our approach is straightforward – every instructor needs to be the absolute best in the world at what they do.
Practical curriculum teaching you what the market needs right now from acquisition specialists, created by leading practitioners.
We work with industry experts to determine the most relevant topics. What is useful and in-demand has informed our curriculum more than anything else.
Courses are taught by hand-selected top practitioners, names that people in the industry know well.
Perfect for marketers looking to become a customer acquisition pro
This is a comprehensive training program that will give you the skills to do effective customer acqusition.
It covers all key customer acquisition channels – both paid and organic. You get the full gamut of skills you need to become a customer acquisiton pro.
Pass the final test and become a CXL Certified Customer Acquisition Specialist.

Penny Mayry
Andy did an amazing job of bringing you into the conversation. He made it easy to follow and remember an insane amount of information, and the accompanying slides had great memorable visuals.

David P.
Regarding my job today, I learned more with three courses in CXL than I did during three years in top European business courses.

Tony G.
CXL is my go-to platform if I want to learn anything about marketing. Purely because the content is so good. Taught by leading practitioners in their field.

If you are serious about learn your topic properly then these courses are for you. The minidegrees are worth every penny. It is an investment in you.

Luiz Freires
The course is very hands-on with reports open all the time and with analysis and improvements applied constantly. It has a great didactic approach and can be extremely useful for a marketer or for product professionals at all levels.

Lauren Deal
I originally took the course because as a new agency owner you can feel lost or like you don't know if you are quite on the right track. This course was packed with information and felt like money well spent. After I was done I felt like all my questions were answered, and I had a clear course to chart forward with.

Alejandro Chimalpopoca Divéze
It was a structured and ready-to-be-implemented plan for Facebook Ads that solved the exact problem I had. After just a couple of months, we stopped pulling our hair, and our clients stopped pausing campaigns every time costs went up, because we had a working per-funnel strategy that not only drove more results at a lower cost but also justified a constant increase in investment.

Paul Z.
Been a long-time reader of the CXL blog and just started my first Minidegree (Brand Marketing), just attended CXL 10.
I'm just absolutely blown away by the quality of content and thought CXL puts into their experiences. Count me as a lifelong customer.

Francis Angelo Reyes
This landing page optimization course has always been my favorite. It's concise and blends core concepts (analytics, research, copywriting, design, etc.) well.

Ap S.
CXL is just the best place to grow for a marketer. I learned more in a few months via CXL than what I learned in 8, 9 months on my own.

Matt R.
Anyone would benefit from CXL, and that goes from interns up to CEOs. That's really been the case in our company.
After their training sessions you're fully equipped… you can go off and implement your learnings straight away.
24h 59min of videos & study material.
This Customer Acquisition training program is designed to give you advanced level skills in customer acquisition. You get 24h 59min of video courses.
All of our instructors are hand-picked, and carefully vetted. Our approach is straightforward – every instructor needs to be the absolute best in the world at what they do.
Complete all courses in the Acquisition track to unlock the exam
Show off your hard-earned skills and strengthen your profile.
LinkedIn found that people who add credentials to their profile receive 6x more profile views than those who don't.
Add your certificates to your profile, share your accomplishments with the world, and join our alumni network.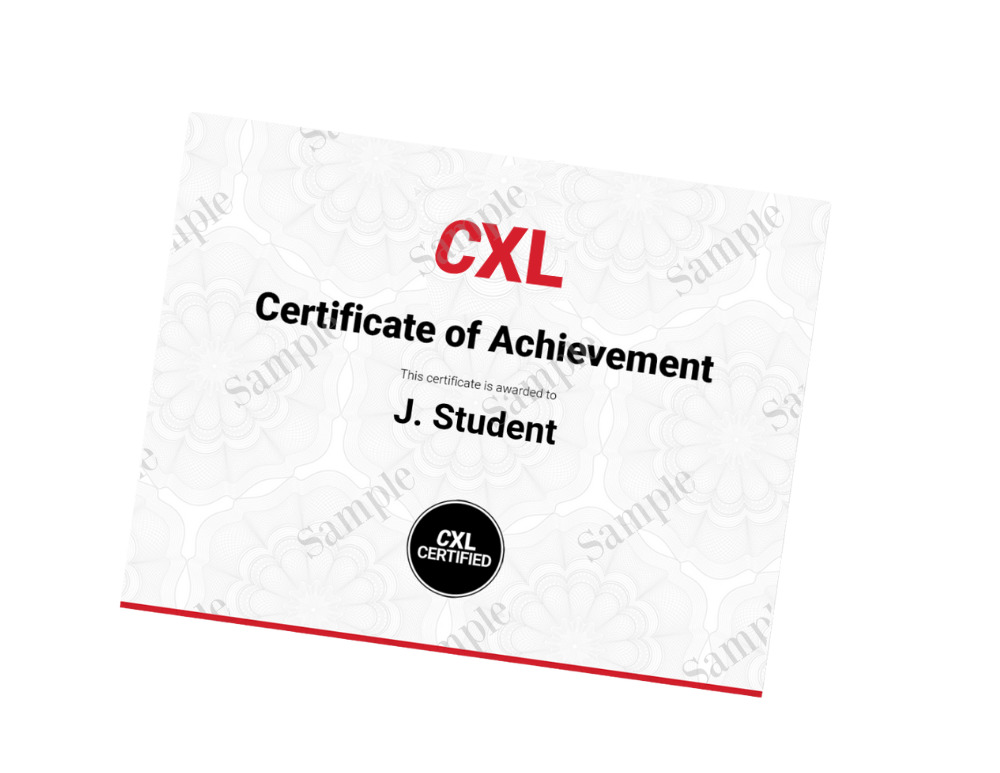 Learn marketing on the job.
Get better results with networking.
Playbook community gives you peer support for every marketing task you face. 90% of marketing tasks are not unique. Someone has already figured it out. Achieve more with less hassle.
Access our library of thousands of marketing playbooks, each showing you how to do a specific marketing task in 10 steps or less, with real-time peer support.
Join our community of marketing experts, ready to support you in getting that promotion or master new strategies, skills, and channels.
Network with some of the world's best marketers and companies and get noticed, hired, or endorsed.
Subscribe to CXL and get access
90+ courses (full list here) on all aspects of data-driven marketing (new courses added every month)
10 minidegrees that give you advanced level skills
Playbook community with 2500+ instructions and peer-support
Got a team, multiple users? Get our Teams All-Access plan instead.
The CXL guarantee
7-day no questions asked money back period
You can immediately apply learnings and improve your results.
Need help convincing your boss?
Click here for a pitch deck, swipe files and tips.
Subscribe to CXL
All plans come with a 7-day trial for $1.
Get access to this and 90+ other training programs.
See plans and pricing
or
Request demo (for teams 5+)