Become great at user-centric marketing
Achieve happier customers and increased sales with user-centric marketing
Online course
By Paul Boag,
Founding Partner @ Boagworks
Course length: 2h 45min
Start 7-day trial for $1
Become a master of the sales funnel
Digital has changed marketing forever. The power now lies with the customer. They have unlimited choices and the voice to complain if they are unhappy. We have to know how to cut through the digital noise and ensure they love how we interact with them. We have to become user-centric in how we approach marketing.
After taking this course, you'll:
Be equipped with easy to implement user research approaches to better understand your audience and how to engage them.

Discover how to map the customer journey, allowing you to know what messages to communicate and when.
Be able to test your campaigns with users in a cost-effective way to ensure they are as effective as possible.
You can apply user-centric marketing techniques even if you have a limited budget and tight deadlines
User research and testing your campaigns don't need to be time consuming or expensive. It can save both time and money because it ends the endless debate about the best approach and prevents you from adopting the wrong path.
User-centric marketing will allow you to spend your budget better and do more with less thanks to more word of mouth recommendations. That benefits both your business and you personally as you consistently exceed your targets.

Laura B.
The content is insightful, actionable and doable.
I appreciate the range of topics and the talent and expertise of the presenters. I've grown more as a marketer in the last several months than I had in years before.

Alex B.
CXL has helped me tremendously in my journey to become the best digital marketer I can be.
It has opened my eyes to the capabilities of tools like GTM and Google Sheets. You guys have humbled me by teaching me that there's so much more to learn!

Ap S.
CXL is just the best place to grow for a marketer. I learned more in a few months via CXL than what I learned in 8, 9 months on my own.
This course is essential for you if …
You are under pressure to improve your conversion rate.
You are unsure which channels are most effective for engaging with your audience.
You are being expected to achieve more with less.
This course is NOT for you if …
You believe in relentlessly broadcasting your brand messages, rather than listening and responding to your audience's questions.

You are unwilling or unable to work collaboratively with colleagues across your companies even when they work within different business units.

You already have extensive experience in user research, usability testing and ongoing multivariate testing.
You are willing to go to any lengths to close a deal even at the cost of alienating the prospect.
Designed for any marketer interested in adopting a more user-centric approach
This course is appropriate for any marketer who knows that traditional marketing is becoming less effective. It is for those ready to try something new.
It is for those interested in how user experience design and user research can apply to marketing.
Paul Boag
Founding Partner @ Boagworks
Paul Boag works with an enormous range of organisations. Clients include Doctors Without Borders, UNICEF, Puma and GlaxoSmithKline. Over the past 24 years, Paul has improved user engagement and conversion rates across hundreds of sectors. He has writte …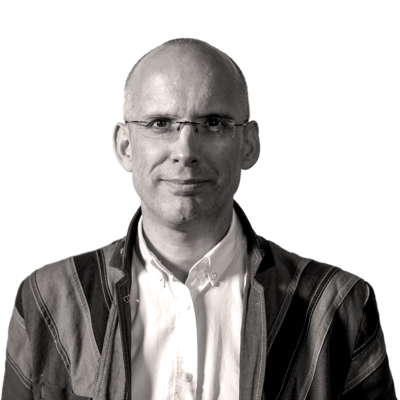 Paul Boag works with an enormous range of organisations. Clients include Doctors Without Borders, UNICEF, Puma and GlaxoSmithKline. Over the past 24 years, Paul has improved user engagement and conversion rates across hundreds of sectors.
He has written five books on user experience design and digital transformation and been podcasting since 2005. He is also a non-executive director at Smashing Media, who runs one of the largest blogs on digital topics.
Your full course curriculum
User-Centric Marketing
1
Why we need a user-centric approach to marketing
Even if you are convinced of the need for a more user-centric approach to marketing, others in your company might not be. That is why in this first lesson, Paul will lay out the case for a user-centric approach and what exactly that means.
2
How do we start to adopt a user-centric approach
A user-centric approach to marketing starts by understanding of your audience. In this lesson, Paul will explain why traditional personas are not enough. He will tell you what questions you should be asking about your audience instead.
3
How to better understand your audience without spending a cent
One of the significant barriers to user research is the perception that it is expensive. That is not the case, especially when starting. For a start, you will find that a lot of knowledge about your audience already exists within the company. In this lesson, Paul will explore how to dig out that knowledge without spending a cent.
4
Building a picture of your audience using surveys
Surveys are a powerful tool in better understanding users, but we often use them in the wrong way. In this lesson, Paul will show you some techniques to extract valuable and applicable information about your audience.
5
Discover the power of top task analysis
Convincing people to take action mostly comes down to answering their questions and addressing their objections. But some questions or objections are more relevant to users than others. We need to know what these deal breakers are, to make sure people can easily find the answers they need. That is achieved through top task analysis, as you will discover in this lesson.
6
Why and how you should be meeting your audience in person
If we want to understand people so we can persuade them, we must spend time with them. Meeting with users is essential to marketing success. In this lesson, Paul introduces you to some different approaches you can adopt to this most central of principles.
7
Customer journey mapping: What is it and why it can help?
What we learn about the customers from our research needs to clarified in our minds and then clearly communicated to colleagues across our organisation. Often this is done in the form of personas, but customer journey mapping tends to be a more effective approach as Paul explores in this lesson:
8
How to run a customer journey mapping workshop
One of the best ways of mapping the journey of customers is to run a customer journey mapping workshop. In this lesson, Paul will take you through the process of running this kind of workshop and what exactly that involves.
9
How to get the most from your user research
Too many companies carry out customer research only to leave the results in a drawer somewhere gathering dust. If we are going to adopt a user centric approach to marketing we need to make sure we are using what we have learned on a daily basis. In this lesson Paul will show you how to do exactly that.
10
Involve the user in your campaign design
Knowing who your users are and what they want will help create more compelling campaigns. But involving users in campaign design ensures they also strike the right tone.
11
How to test your campaign's design with users
You make many decisions when planning a campaign, but how do you know if those are the right decision? That is where testing should come into every campaign. In this lesson, Paul looks specifically at how to test design mockups of things like email templates or landing pages.
12
Reflect your customer's mindset with Card Sorting
Your website is a crucial part of most marketing campaigns. Yet often we structure those sites around our world view, rather than the user's perspective. If you want users to act on your website, it needs to reflect how they think.
13
Ensure website success with a prototype you can test
Building websites that support your marketing strategy can be expensive and time-consuming. If you get it wrong, it can be a costly mistake, leaving you with a site that fails to convert. That is why, in this lesson, Paul recommends building a prototype you can test, before committing to a final build.
14
Testing your websites at scale with unfacilitated usability testing
Usability testing will dramatically improve your conversion rate, but it is not without its difficulties. In this lesson Paul will explore those challenges and show you how unfacilitated remote testing might be a more practical solution for some organisations.
15
How to refine your campaigns post launch
As marketers, we tend to move from one campaign to the next and never take the time to reflect on how a campaign is performing once launched. However, digital channels allow us to monitor how our campaign is performing and adjust it as it runs. In this final lesson, Paul introduces us to some techniques for making that happen.
Show off your hard-earned skills and strengthen your profile.
LinkedIn found that people who add credentials to their profile receive 6x more profile views than those who don't.
Add your certificates to your profile, share your accomplishments with the world, and join our alumni network.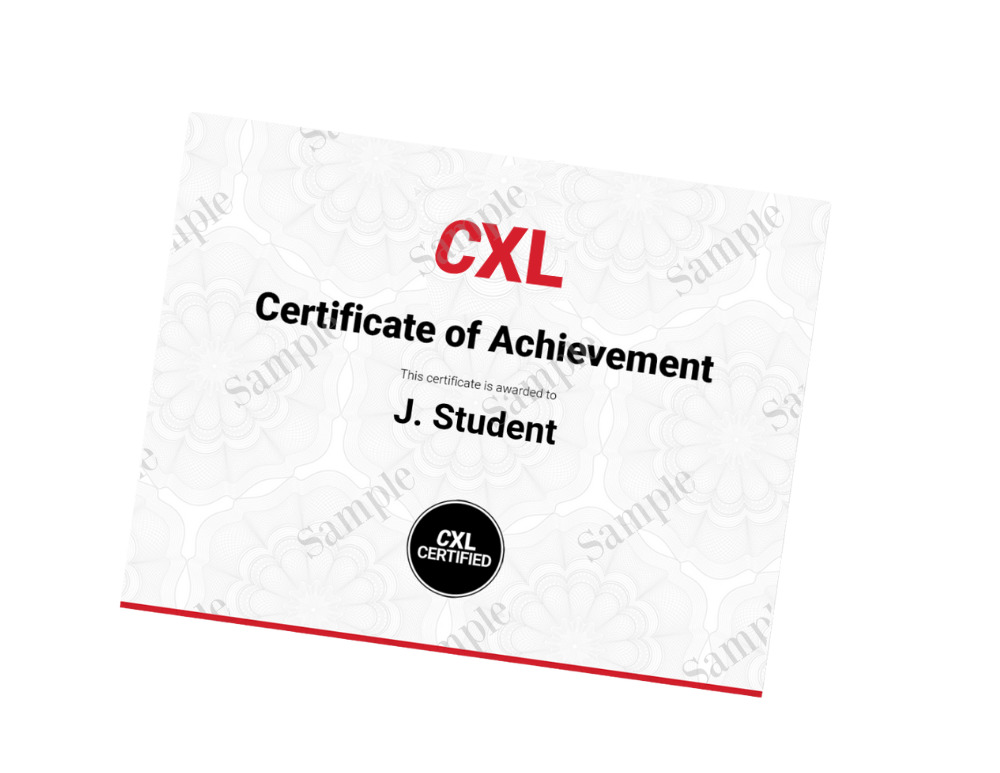 Learn marketing on the job.
Get better results with networking.
Playbook community gives you peer support for every marketing task you face. 90% of marketing tasks are not unique. Someone has already figured it out. Achieve more with less hassle.
Access our library of thousands of marketing playbooks, each showing you how to do a specific marketing task in 10 steps or less, with real-time peer support.
Join our community of marketing experts, ready to support you in getting that promotion or master new strategies, skills, and channels.
Network with some of the world's best marketers and companies and get noticed, hired, or endorsed.
Subscribe to CXL and get access
90+ courses (full list here) on all aspects of data-driven marketing (new courses added every month)
10 minidegrees that give you advanced level skills
Playbook community with 2500+ instructions and peer-support
Got a team, multiple users? Get our Teams All-Access plan instead.
The CXL guarantee
7-day no questions asked money back period
You can immediately apply learnings and improve your results.
Need help convincing your boss?
Click here for a pitch deck, swipe files and tips.
Subscribe to CXL
All plans come with a 7-day trial for $1.
Get access to this and 90+ other training programs.
See plans and pricing
or
Request demo (for teams 5+)
Some of the companies that train their teams at CXL: