Become great at product analytics
Make data-driven decisions with product analytics
Online course
Product analytics
By Matthew Brandt,
Interim Head of Business Insights @ Penta
Course length: 7h 00min
Start 7-day trial for $1
How do you turn product insights into action?
It's all about gathering, measuring, analyzing and communicating product milestones so your company can make data-driven decisions.
Through real-world examples, case studies and a look at what not to do, this course will teach you how to make product analytics a core competency and driver of growth at your company.
After 8 sessions, you'll:
Be a master of collecting and analyzing product-level data accurately
Understand how to implement and track important product metrics
Know how to compare multiple segments of users with distinct traits and consolidate data from multiple users into single profiles
Be a pro at applying useful Google Sheets functions like VLOOKUP and COUNTIF and clustering data as well as apply common MySQL arguments such as COUNT, LIKE and CASE
Benefits
Google Analytics. Mixpanel. Adobe Analytics.
We've all heard of them — they're great for websites and apps with predefined goals and metrics.
But your product is much more complex and often lacks clear targets or paths to success.
This course will demystify your product data and teach you the methods and techniques you need to turn that data into actionable insights.

This course had excellent quality and density of material, no bull****
This course is right for you if…
…you're a Product Owner and need to understand more about your product
…you're an Analyst in a product-driven organization
…you're a UX Researcher and want to understand more about the product
This course is probably not for you if…
…you have no experience with traditional web analytics
…you already have 2+ years of experience in Product Analytics
…you're not working with a product
Skills you should have before taking this course
Some familiarity with data collection, data storage (databases)
Good knowledge of common analytics tools such as Google Analytics, Kissmetrics, Webtrekk, Adobe Analytics
Experience using a web product (e.g. Trello, Dropbox, Salesforce, etc.)
Matthew Brandt
Interim Head of Business Insights @ Penta
A digital analyst for more than six years, Matthew has done end-to-end analytics for over 50 companies from the ground up by tracking concepts, overseeing implementations, building reporting and performing analyses of the data collected. The last 2 yea …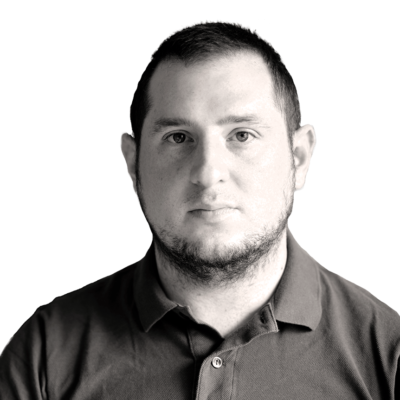 A digital analyst for more than six years, Matthew has done end-to-end analytics for over 50 companies from the ground up by tracking concepts, overseeing implementations, building reporting and performing analyses of the data collected.
The last 2 years Matthew has been delivering deep insights to all different departments and teams of a SaaS-company with a web-based accounting product.
Your full course curriculum
Product analytics
1
Introduction to product analytics
This class is about getting familiar with product analytics and its associated terms, common questions and pitfalls, as well as differences to other types of analytics (such as web analytics). You'll also learn about what the difference is between a "classic" website and a web product.
Topics covered:
Product analytics definition
Differences between product and "classic" web analytics
Common questions and mistakes
2
Data collection done right
Collecting data correctly, at the right time and in the right format is a prerequisite of being able to do any kind of analysis afterwards. Knowing what (and what not) to collect is usually quite difficult, as many questions will not be known at the time data collection needs to be set up. This class covers all of these areas and sets you up to be as future-proof as possible with your data collection setup.
Topics covered:
Where, when and how to collect data correctly
Data formatting and standards
Implications of incorrect data
Mixpanel, Heap Analytics, Google Analytics, Amplitude, Snowplow - many tools exist on the market today that allow you to collect data and analyze it. Tying in with the previous class about data collection, you will learn about how that data is used in the different tools and most importantly, the core differences in their data collection and analysis strategies in regards to product analytics specifically.
Topics covered:
Overview of the tools available and their good & bad sides
Gathering requirements and defining use cases
Evaluating tools for your use cases
All products are different and yet, there is a set of common metrics that can be applied universally to each product. This allows comparison across different industries as well as for analysts to compare with previous experiences. Learn some of these core metrics and especially why they are useful in your case.
Topics covered:
3 core metrics: Customer Acquisition Cost, Customer Lifetime Value, Churn Rate
Leading vs. lagging metrics
Benefits and drawbacks of core metrics
In order to understand how well a product is performing, users must be understood as much as possible. In this class you will learn more about how to look at users and, specifically, subsets (known as cohorts) of these users for different purposes. Additionally, you will see what kind of metrics can be used to understand your users and their behaviour better.
Topics covered:
How to understand users
Cohort creation and analysis
Sample user-based metrics used in product analytics
6
Common questions & challenges
This class addresses many questions that arise when analyzing products. In addition to looking at sample questions, you will also see many challenges that can arise due to, among other reasons, the nature of product analytics being very retroactive.
Topics covered:
Example questions in product analytics
Common challenges in product analytics
Tactics for addressing challenges
7
Reporting on and monitoring product metrics
In previous classes, multiple metrics are shown as examples that can be used in product analytics. In this class, you will learn methods about how to report and monitor on these metrics and more. You will also learn some basic steps to visualizing data.
Topics covered:
A selection of metrics for product analytics
Setting up reporting and fundamental data visualisation principles
Setting up monitoring
In this class, you will take all that you have learned about product analytics and learn how take your analysis to the next level by augmenting your data with data from other sources and systems. The real insights happen when you're able to combine data from multiple places, giving you a more complete view of the users, group of users or aspect of the product you're focused on.
Topics covered:
Data fusion how-to, do's and don'ts
Examples of data fusion
Course wrap-up
Show off your hard-earned skills and strengthen your profile.
LinkedIn found that people who add credentials to their profile receive 6x more profile views than those who don't.
Add your certificates to your profile, share your accomplishments with the world, and join our alumni network.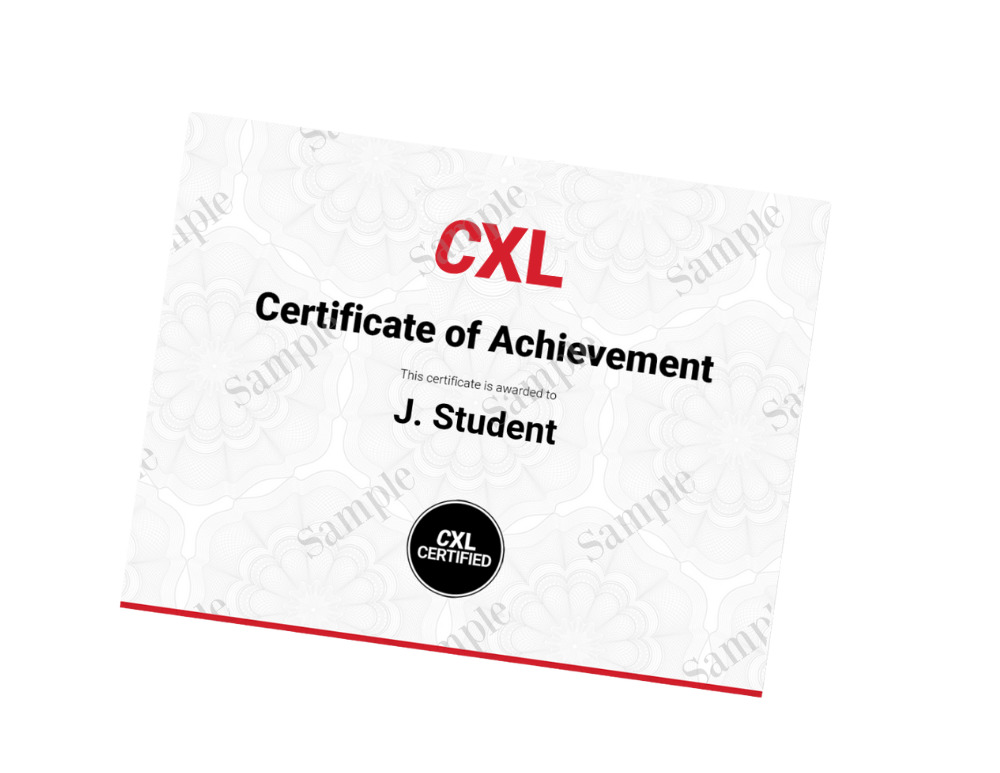 Learn marketing on the job.
Get better results with networking.
Playbook community gives you peer support for every marketing task you face. 90% of marketing tasks are not unique. Someone has already figured it out. Achieve more with less hassle.
Access our library of thousands of marketing playbooks, each showing you how to do a specific marketing task in 10 steps or less, with real-time peer support.
Join our community of marketing experts, ready to support you in getting that promotion or master new strategies, skills, and channels.
Network with some of the world's best marketers and companies and get noticed, hired, or endorsed.
Subscribe to CXL and get access
90+ courses (full list here) on all aspects of data-driven marketing (new courses added every month)
10 minidegrees that give you advanced level skills
Playbook community with 2500+ instructions and peer-support
Got a team, multiple users? Get our Teams All-Access plan instead.
The CXL guarantee
7-day no questions asked money back period
You can immediately apply learnings and improve your results.
Need help convincing your boss?
Click here for a pitch deck, swipe files and tips.
Subscribe to CXL
All plans come with a 7-day trial for $1.
Get access to this and 90+ other training programs.
See plans and pricing
or
Request demo (for teams 5+)
Some of the companies that train their teams at CXL: