Become great at positioning & company storytelling
Learn how to be an effective Marketing professional by understanding how to tell your brand story in a way that drives business growth.
Course length: 37min
Start 7-day trial for $1
April Rassa
VP, Product Marketing @ HackerOne
Some of the companies that train their teams at CXL:



Your brand positioning is the secret superpower that, if done correctly, can change the way the world thinks about a problem, a technology, or even an entire market. Effective positioning distinguishes your offerings from the competition and helps customers understand your unique value.
In this course, author, product marketing leader, April Rassa shows how to create powerful and effective messaging and positioning for B2B products and services.
After taking this course you'll…
understand the key components used in crafting a compelling brand story.
walk away with a clear understanding of value proposition, messaging, and positioning and how to use them in your marketing strategy.
develop a positioning statement that your company can use to inform branding, marketing campaigns, sales strategy, product decisions, and customer-success strategy
This course is essential for you if…
As a Marketing professional you are responsible for developing your company's narrative and positioning, how do you start?
You're a salesperson and you want to make it easier for your target customers to understand the strengths of your offering so you can generate more leads.
You're the founder, CEO or executive at a startup that needs to articulate why your product is unique and important to shorten sales cycles and grow revenue.
This course is NOT for you if…
You are looking look for how to write Marketing copy for campaigns or promotional materials.
You are looking to get guidance on how to write copy for presentations.
You are looking to get tips on storytelling techniques.
April Rassa
VP, Product Marketing @ HackerOne
April is the Head of Product Marketing at HackerOne. She's responsible for all aspects of go-to-market efforts, including market segmentation, messaging and positioning, competitive differentiation, content creation, field enablement, and analyst relations.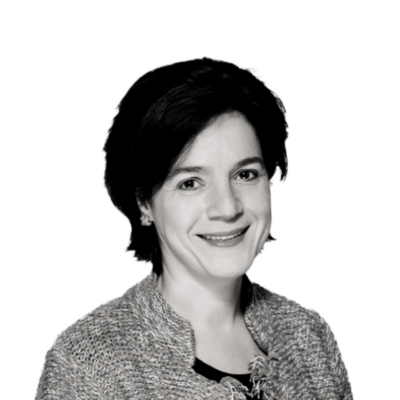 April is the Head of Product Marketing at HackerOne. She's responsible for all aspects of go-to-market efforts, including market segmentation, messaging and positioning, competitive differentiation, content creation, field enablement, and analyst relations.
She's an advisor to many SaaS, consumer, and enterprise companies and led four startups (Progressly, WePay, Peakstream, and FineGround Networks) to successful exits to Box, JP Morgan Chase, Google, and Cisco, respectively. Her specialties include product marketing, business strategy, pricing, and business development (investments and partnerships).
Your course curriculum
Positioning and company storytelling
In a story, you not only weave a lot of information into the telling but you also arouse your listener's emotions and energy. Understand how to mobilize key stakeholders to develop stories that convey meaning.
Topics covered:
Stories are the most powerful delivery tool for information, more powerful and enduring than any other art form.
Understand how to convey your story with a purpose and connect to the buyer's emotions.
Learn to focus on the Why not the What in your narrative.
2
How to craft a compelling brand story
The goal for any marketing or sales activity is ultimately to generate a result – to get your audience to respond to your message and take action on it. But they won't even look at your message, let alone respond to it if it's not relevant to them.
Topics covered:
Learn how to start your brand story that draws in your buyer.
Understand what it means to be customer-in vs function-out
Create a sense of urgency in your narrative
3
Positioning vs. Messaging vs. Value Proposition
We often lump value proposition, messaging and positioning into one big bucket of "what we want to communicate." That's misleading and confusing. Each term is important and related, but they serve very different functions.
We'll cover the goals of each and provide examples so you understand the difference.
Topics covered:
Why is it important to start with positioning? Positioning is strategy. Learn how to articulate the difference between positioning, messaging, and value proposition.
Understand who owns the positioning strategy in the organization and how to influence change.
Learn how to identify positioning statements.
4
Understand the elements of your positioning strategy
It's tough to influence people you don't know. Your goal is to figure out what your audience cares about and link it to your idea. In this section, we will discuss the key elements of a positioning statement including target audience, defining problem statement, problem category, and differentiation.
Topics covered:
Learn how to craft your positioning.
Understand and define the key dimensions of your target market and how to appeal to them in a differentiated manner.
Learn what it means to define a market category and when it can apply to your marketing strategy.
5
Your Differentiation Strategy
Your differentiation should not focus on just any difference. The difference needs to resonate with your ideal customer. Differentiation is about finding small, genuine differences that set you apart. We'll cover what you need to consider when crafting differentiated narratives.
Topics covered:
Understand how strong positioning is anchored on your unique value -- your differentiation.
Learn about required capabilities and how to position yourself in eyes of the buyer.
Learn what questions to ask to develop your unique value.
6
How to craft effective messaging
Messaging is a subset of positioning. It's the art of defining what you will say to the personas you're targeting and what form that messaging will take. Messaging serves as the intermediary step between positioning and content creation. The key is to define the 3 big 'why' questions that a sales rep needs to answer to close a sale: 1) why buy anything, 2) why buy now, and 3) why buy you.
Topics covered:
We are conditioned to think in problem/solution terms. But the reality is that there are two types of problems - big problems (we're moving from on-premises software to SaaS) and urgent problems (my business units are going around my IT team and signing up for SaaS apps like Miro and Notion, cutting us out of our core function!). Learn about the 3 Why's.
Learn how to distinguish between Why Buy Anything (BIG problems) and Why Buy Now (URGENT problems).
Understand the three categories of messaging.
7
Translate your positioning into a sales play
A positioning exercise on its own is valuable, especially when it gets the entire team to agree on what the differentiated value is for the offering and what customer segments to go after. The next stage is to make the positioning real across the company.
Topics covered:
Help define the sales story that defines the problem your solutions can solve uniquely for the customer.
Work across the organization (aside from Sales) to incorporate positioning in Customer Success, HR (onboarding and recruitment), Product, Engineering and Design.
Develop a mechanism to track your positioning and iterate.
Show off your hard-earned skills and strengthen your profile.
LinkedIn found that people who add credentials to their profile receive 6x more profile views than those who don't.
Add your certificates to your profile, share your accomplishments with the world, and join our alumni network.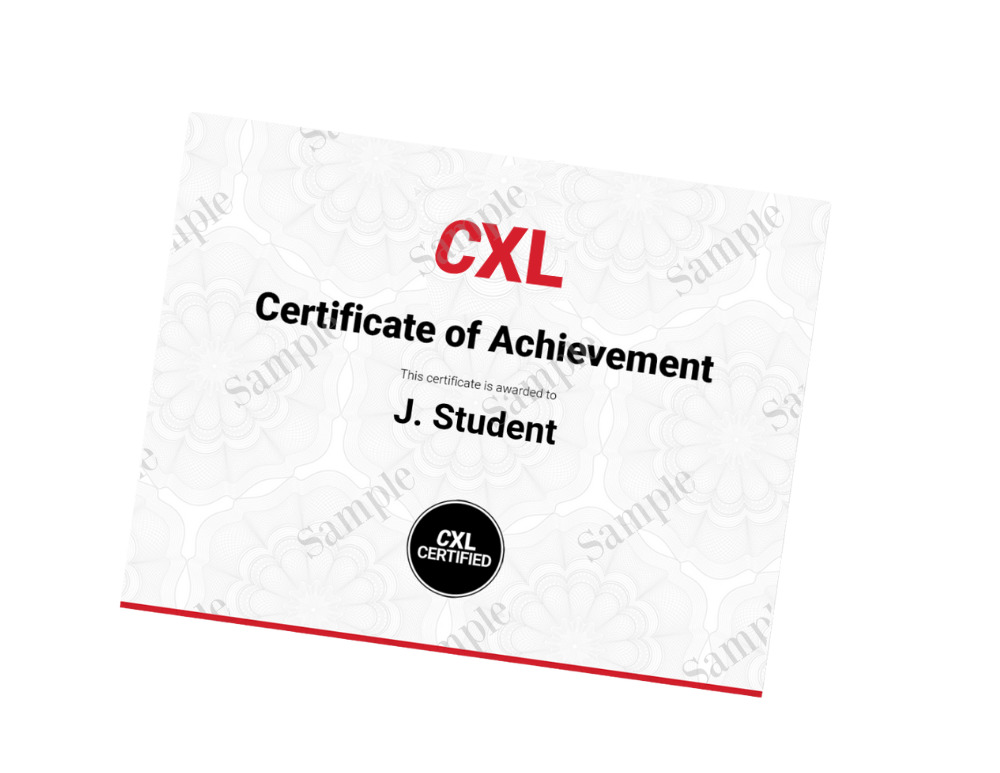 Learn marketing on the job.
Get better results with networking.
Playbook community gives you peer support for every marketing task you face. 90% of marketing tasks are not unique. Someone has already figured it out. Achieve more with less hassle.
Access our library of thousands of marketing playbooks, each showing you how to do a specific marketing task in 10 steps or less, with real-time peer support.
Join our community of marketing experts, ready to support you in getting that promotion or master new strategies, skills, and channels.
Network with some of the world's best marketers and companies and get noticed, hired, or endorsed.
Subscribe to CXL and get access
90+ courses (full list here) on all aspects of data-driven marketing (new courses added every month)
10 minidegrees that give you advanced level skills
Playbook community with 2500+ instructions and peer-support
Got a team, multiple users? Get our Teams All-Access plan instead.
The CXL guarantee
7-day no questions asked money back period
You can immediately apply learnings and improve your results.
Need help convincing your boss?
Click here for a pitch deck, swipe files and tips.
Subscribe to CXL
All plans come with a 7-day trial for $1.
Get access to this and 90+ other training programs.
See plans and pricing
or
Request demo (for teams 5+)
---
This course is available in the following minidegrees: