Become great at Facebook Ads Creative
Learn the #1 way to use Facebook Ads to grow your brand profitably.
With lessons learned from hundreds of millions of dollars spent for DTC brands of all sizes, we will give you a framework for creating a high-performing ad creative and the strategy for setting up for the most success in your ad account.
We'll draw on lessons from "Mad Men" advertising legends like David Ogilvy and Bill Bernbach and apply them through the lens of modern DTC brand-building.
Course length: 1h 12min
Start 7-day trial for $1
Andrew Faris
Ecommerce Growth Executive
Some of the companies that train their teams at CXL:



Introduction video
This course is essential for you if…
You've run Facebook Ads before and found that they've never worked for your business.
You're working with an ad agency that's handling the creative for you, because it will help you manage them much more effectively.
You believe that the Apple iOS14.5 update has made Facebook Ads impossible. Spoiler alert: it hasn't.
After taking this course you will…
Internalize a framework for how to leverage still images, video, and copy to generate high-performing Facebook Ad creative no matter your production budget.
Know how to use variations of "offers" to maximize the performance of your Facebook Ad creative.
Think not just in terms of products, features, and benefits, but in terms of "angles" to communicate the value of your product to your customer.
Understand how to build creative for both quality AND quantity to set your brand up for success that's truly scalable.

Chris Out
For the hard skills, we use CXL to enable all our growth hackers and CRO people, who have different clients with different needs. Everybody can follow a tailored course for the stuff that they need to learn. The next thing we do, we create a learning plan per person, and we check in with people to see how fast are they learning. That learning plan is created based on their ambitions, what their clients need, and how they want to evolve.

Josh R.
CXL has lead to more professional growth than any other year of my life. The best educational investment I have ever made.

Victor A.
CXL gave me a big lift in my career.
Few months after my Growth Marketing Minidegree, I got a job.
Ever since then, the story has been different.

Tomek D.
Our Growth Marketing agency has completed 1298 lessons and 138 courses at the Institute so far. CXL helps us in a number of ways:
1. Provides an incredible source of content to train our staff.
2. Is a good tool in keeping our staff (they're growing and we aid in that).
3. Is an awesome source of new opinions/methods to try out on our clients.

Radvilas Š.
Anyone interested in genuinely understanding the math behind CRO and A/B testing absolutely has to use CXL.
My whole team has a great time discussing the material and aligning our views on processes we use, and to come up with ideas to implement in the future.

Ruben D.
The wide variety of courses taught by many different experts makes CXL highly recommended for every team who takes growth seriously.
New courses are regularly available, making it better and better. CXL is a great platform for learning and growing businesses.

Yasmine de Aranada, Growth Strategist @ Market 8
This course is packed with gold! Momoko is an awesome teacher – I took the course late so only got access to recordings, and even with that, I am able to use every bit of it in my deliverable.

Crystal Ignatowski, Marketing Content Developer @ Surety Solutions
I'll be honest, I didn't entirely understand what the CXL was at first. Then, I realized it was a gold mine. The Institute is jam-packed with courses, certificate programs, and recordings of past events/courses. The CXL was my guide book for many many months and because of that, I am leaps and bounds above the rest. Everything the Institute publishes is part of the top 5%. There is no fluff in the Institute; only real, actionable, and result-driven content. If you think you know stuff, give the CXL a try. You'll be shocked at how much you have to gain.
Your course curriculum
Facebook Ads Creative
1
Generating Quantity: Utilizing Creative Volume And Cost Controls To Win
Learn the #1 way to use Facebook Ads to grow your brand profitably.
This starts with your account setup and general approach to success, which means trusting Facebook's algorithms to find you the right customers for the right price by generating a high volume of creativity and utilizing Facebook's Cost Controls to know how much to spend on each.
2
Generating Quantity: Five Ad Variation Types To Create A Wider Range Of Outcomes
In this lesson, we'll walk through five different ways you can vary your creative to create different performance outcomes as you seek to feed Facebook a high quantity of varying ads.
The wider the range of creative options you test, the wider the range of potential outcomes you'll get. So if you want significant improvements in ad performance, you need substantial changes in your ads.
You will learn:
the difference between small, marginal creative testing and highly variable creative testing (and why you should usually prefer the latter)
how creative variation, not ad targeting, is the way to ensure that your ads perform to your desired outcomes at the most possible scale
the five different ways to add variation to your creative.
3
Generating Quality: Prioritizing Clarity + The Hero Product
In this lesson, we will cover why great direct response advertising must be clear above all else.
If the customer doesn't know what the ad is for or about, you've lost before starting. And nothing is more important for making advertising clear than imagery that features the product as the unquestioned hero.
You will learn:
why direct response advertising in particular (as opposed to advertising focused more on brand-building) must be clear above all else
what it means that "the product is the hero" of the ad and how that plays out in the visual design of the ad
about the unique power of still images to present a product clearly and beautifully, and why that means this underrated ad format remains an important part of your advertising toolkit
4
Generating Quality: The Headline (Or, It Starts With Words)
In this lesson, we will cover how once the hero product imagery is established so that the product being advertised is both clear and presented attractively, it's time to generate attention and interest with the headline.
Great advertising starts with words and great copywriting starts with headlines.
You will learn:
the concept of an "angle" in advertising, and how that helps you move from general product features and benefits to the specific ways a product will make the lives of your customers better
how to use headlines to capture attention and pique interest, and why "attention" and "interest" are so important in creating advertising that performs
to connect headline-writing to the overall concept & angle of any given ad as the starting place for clear and compelling communication
5
Generating Quality: Explaining The Value You're Providing
In this lesson, we will cover the last step in generating high-quality advertising of any kind (including on Facebook) is to provide customers with the information they need to make their purchase.
Great headlines and great visual creative is all well and good. But they are not enough to actually sell products in most cases. For that, customers need some kind of additional information.
You will learn:
how explanatory information uniquely drives the desire for your product and, ultimately, the action of making the purchase
how to use various ad types, formats, and landing pages to test different kinds of information content in your advertising
how to connect your advertising angle to your specific product and know-how that plays out as you generate information content in your ad
Andrew Faris
Ecommerce Growth Executive
Freelance DTC Growth Strategist and entrepreneur in residence @ Common Thread Collective.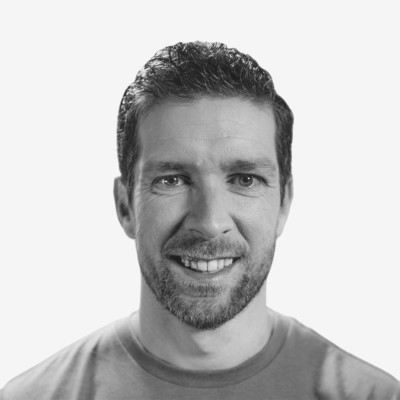 I just really love growing ecommerce brands.
That love first formed in 2015 when I began my ecom career as a media buyer at QALO in the heart of its run from $0-$20M in 1.5 years with no external funding. I led our efforts on Facebook Ads, Google Ads, and direct media buys in digital and print.
After the exhilaration of that rapid growth, I became a growth strategist at the newly-formed Common Thread Collective (CTC), a digital sales agency that helps entrepreneurs achieve their dreams. Within two years I was promoted up to VP of Growth, where I led our digital strategy.
Soon after, CTC spun off its brands via its DTC aggregator, 4×400, and I was eager to get my hands dirty there. So I slid over to lead growth at 4×400 until again promoted within two years, this time to CEO.
I ran 4×400 until December 2021, leading up to 6 brands at a time, and now work as an outsourced ecommerce growth executive across multiple brands, where I get to keep doing exactly what I love:
Grow ecommerce brands.
Show off your hard-earned skills and strengthen your profile.
LinkedIn found that people who add credentials to their profile receive 6x more profile views than those who don't.
Add your certificates to your profile, share your accomplishments with the world, and join our alumni network.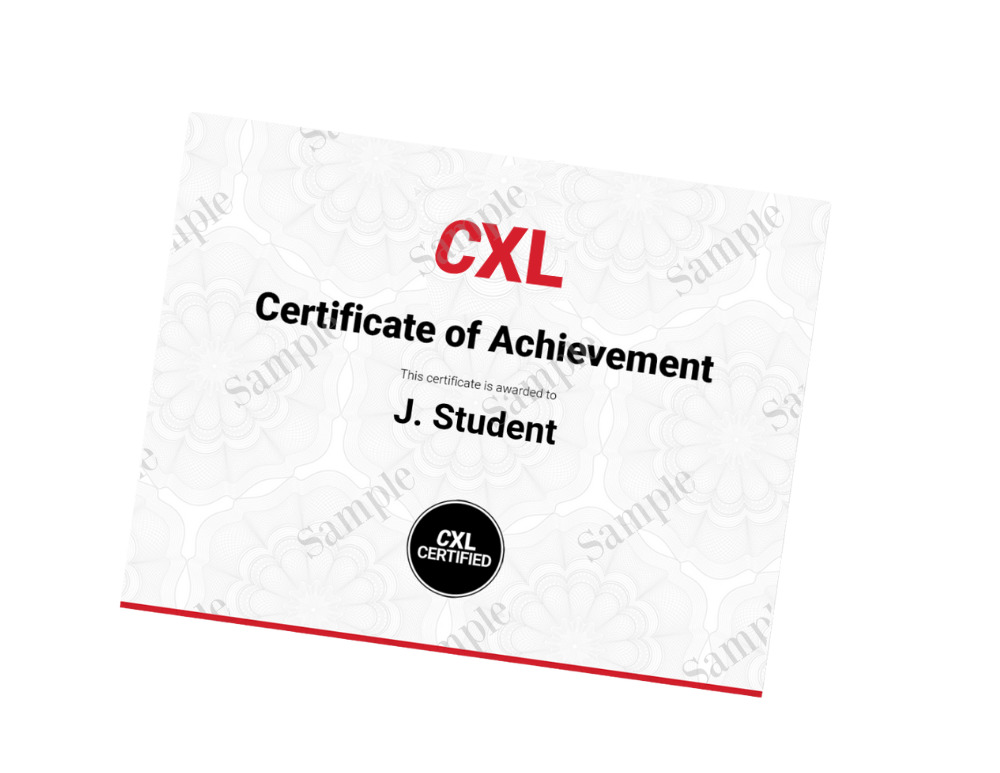 Learn marketing on the job.
Get better results with networking.
Playbook community gives you peer support for every marketing task you face. 90% of marketing tasks are not unique. Someone has already figured it out. Achieve more with less hassle.
Access our library of thousands of marketing playbooks, each showing you how to do a specific marketing task in 10 steps or less, with real-time peer support.
Join our community of marketing experts, ready to support you in getting that promotion or master new strategies, skills, and channels.
Network with some of the world's best marketers and companies and get noticed, hired, or endorsed.
Subscribe to CXL and get access
90+ courses (full list here) on all aspects of data-driven marketing (new courses added every month)
10 minidegrees that give you advanced level skills
Playbook community with 2500+ instructions and peer-support
Got a team, multiple users? Get our Teams All-Access plan instead.
The CXL guarantee
7-day no questions asked money back period
You can immediately apply learnings and improve your results.
Need help convincing your boss?
Click here for a pitch deck, swipe files and tips.
Subscribe to CXL
All plans come with a 7-day trial for $1.
Get access to this and 90+ other training programs.
See plans and pricing
or
Request demo (for teams 5+)
---
This course is available in the following minidegrees: