Become great at building CRO agencies
Learn to start, build and grow CRO agencies

Online course:
CRO agency masterclass
By Peep Laja,
Founder @ CXL
Course length: 1h 50min
Start 7-day trial for $1
You'll learn how to…
Find your first, and your 100th client
Pitch clients in a way you close deals
Price your products
Productize your service offerings
Run the kickoff call
Manage client relationships
Plan the skills your team needs
…and much more.
Get a lesson preview
This course is right for you if…
A CRO practitioner or freelancer
Starting or currently running a CRO agency
Expanding your agency to add CRO services
Building and hiring a CRO team from scratch
This course is probably not for you if…
…you're mainly doing in-house conversion optimization, or if you've been doing it for 5+ years, and have figured it out.

Theodor Andrei
Peep Laja is very pragmatic and offers realistic advice in this course.

Lauren Deal
I originally took the course because as a new agency owner you can feel lost or like you don't know if you are quite on the right track. This course was packed with information and felt like money well spent. After I was done I felt like all my questions were answered, and I had a clear course to chart forward with.

Eron Cohen
This was an honest look at CRO agencies.
Running a CRO agency is really hard
Whether you're a freelance consultant picking up your first client or you're at a large agency with hundreds of employees and many clients, the above statement stands true: it's hard to run a CRO agency.
There are so many moving pieces in running a services business. You have to gather leads, close deals, manage clients, hire talent, choose the right tools and techniques, as well as communicate the results of your work effectively (while producing amazing work, of course).
If you currently offer conversion optimization services or if you plan to in the future, this course will help you build a sustainable business while mitigating the number of mistakes you make.
Learn to close more and bigger clients
When you're selling agency services, no matter how you productize your offering, you're still selling time. The fact is that it just makes so much more sense to work with bigger clients. Being an agency means you're in the margin business, not volume business.
Time spent with any client is pretty much the same, but big companies can afford to pay a lot more
You increase their revenue by 1%. If their annual revenue is 500 million, that's many Ferraris. If their annual revenue is $100,000 and you get a 1% bump, they fire you and tell everyone how much you suck.
This course will show you how to attract the right clients, win them over and close big deals.
This course will equip you with not only the toolset and knowledge, but with the confidence to grow your business by leaps and bounds.
Delight current clients with deeper expertise and process
Keeping and managing clients can sometimes go unnoticed when you think about agency health, but managing clients is often the hardest and most important part of the process.
Better client management lets you focus on coming up with better solutions and getting better work done, and it also leads to longer working relationships (meaning more revenue for your agency and better referrals down the line).
In addition, this course will teach you a better and more repeatable process for client meetings and account management, so that your junior employees can quickly begin to interact autonomously with clients, removing the need for senior supervision.
Learn from the master
There are a whole lot of people out there who say they know what they're doing, but not many actually do. Peep Laja has built one of the most successful CRO agencies of all time.
His advice isn't to be taken lightly – he learned through 8 years of victories and defeats, trial and error, and from working with a dizzying variety of clients.
As Otto Von Bismark so bluntly put it, "Fools say that they learn by experience. I prefer to profit by others' experience."
Peep is one of the few who does conversion right – and can walk you through the process from soup to nuts.
Optimize your own optimization services
When you're a practitioner – a consultant, individual contributor, or agency head – it's common to focus on the work without focusing on steering your business in a strategic direction. "The cobbler's children have no shoes," as they say.
It's easy to fall into this trap; we love the work, so we let the other chips fall where they may.
However, that's no approach to take if you truly want to grow a winning digital agency.
This course will teach you to processize all of that stuff you usually cast aside: marketing your business, positioning your offer within the market, managing the entire client lifecycle, and managing your team.
At the end of this course, your agency will be a well-oiled machine, prepared to lead the field offering digital optimization services.
Peep Laja
Founder @ CXL
Peep is the founder of CXL, and champion of conversion optimization and experimentation. He's been nominated as the most influential conversion rate optimization expert in the world. Peep is the creator of the ResearchXL conversion research f …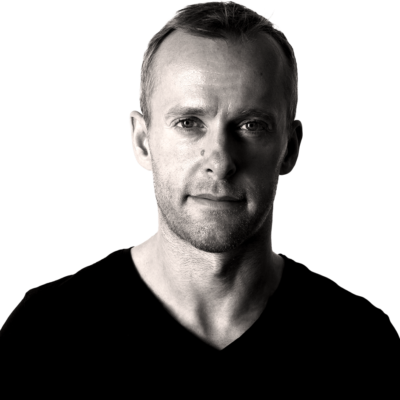 Peep is the founder of CXL, and champion of conversion optimization and experimentation. He's been nominated as the most influential conversion rate optimization expert in the world.
Peep is the creator of the ResearchXL conversion research framework and PXL test prioritization framework.
After this course, you'll be able to
Position and pitch your offer (and avoiding being a "me-too agency").
Know how craft proposals and contracts
Productize services for higher margins and easier sells
Build foot-in-the-door services that get you in
Manage clients. Keep happy clients longer and get rid of the bad ones.
Lead client meetings that actually provide value for both parties.
Manage company resources and politics to push through more action and get things done.
Set your agency or consulting practice up for long-term success.
Course overview
Your full course curriculum
CRO Agency
Understand what type of companies are a good fit for CRO services
Set in place a way to qualify leads
Why you should not sell hours
What should you sell instead as a CRO service provider
Things to think about when setting your prices
Three top ways to charge, and how you really want to be charging clients
Understand the type of business you're in
How to put in place a lead gen engine
What to focus on during a sales meeting
6
Proposals and contracts
When to use them, what to put in them
What to go over with the client before starting an engagement
8
Client relationship lifecycle
How to make any engagement a success
Most website redesigns fails. This is how to get it right.
10
Working with low volume clients
Some clients don't have enough traffic for testing. Doesn't mean you can't help them.
11
Skills sets and team composition
What skill sets do you need in a CRO agency? What can be outsourced?
12
Lessons learned running a CRO agency
This is based on my own meandering experience.
Show off your hard-earned skills and strengthen your profile.
LinkedIn found that people who add credentials to their profile receive 6x more profile views than those who don't.
Add your certificates to your profile, share your accomplishments with the world, and join our alumni network.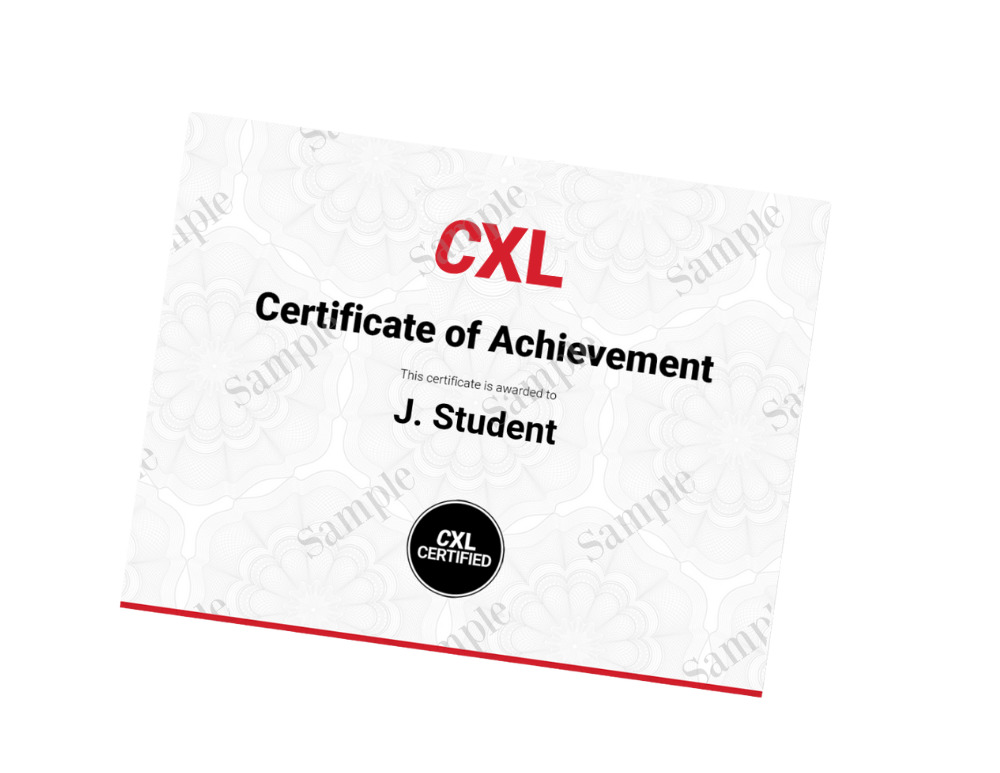 Learn marketing on the job.
Get better results with networking.
Playbook community gives you peer support for every marketing task you face. 90% of marketing tasks are not unique. Someone has already figured it out. Achieve more with less hassle.
Access our library of thousands of marketing playbooks, each showing you how to do a specific marketing task in 10 steps or less, with real-time peer support.
Join our community of marketing experts, ready to support you in getting that promotion or master new strategies, skills, and channels.
Network with some of the world's best marketers and companies and get noticed, hired, or endorsed.
Subscribe to CXL and get access
90+ courses (full list here) on all aspects of data-driven marketing (new courses added every month)
10 minidegrees that give you advanced level skills
Playbook community with 2500+ instructions and peer-support
Got a team, multiple users? Get our Teams All-Access plan instead.
The CXL guarantee
7-day no questions asked money back period
You can immediately apply learnings and improve your results.
Need help convincing your boss?
Click here for a pitch deck, swipe files and tips.
Subscribe to CXL
All plans come with a 7-day trial for $1.
Get access to this and 90+ other training programs.
See plans and pricing
or
Request demo (for teams 5+)
---
This course is available in the following minidegrees: