Become great at content marketing research
Produce relevant, authoritative content that hits money-making KPIs
Online course
By Derek Gleason,
Content Lead @ Shopify
Course length: 1h 07min
Start 7-day trial for $1
Some of the companies that train their teams at CXL:



Become the authoritative source on a topic
Content marketing has enormous potential. You can become the authoritative source on a topic for your readers, giving them a reason to trust you and—down the road—a reason to buy from you.
But you can also waste thousands of dollars on mediocre content that no one cares about or great content that no one sees (because you focused all your resources on production, not distribution).
The difference between success and failure? It often comes down to research, production, and measurement.
After taking this course, you'll…
Identify your deepest expertise. Content marketing succeeds when you pinpoint the topics that you can own—those in which you can become a leading authority.
Learn a replicable process for topic research. Simply looking at the "most shared" or "most linked" posts on a topic and trying to "skyscraper" them is a deeply flawed strategy. A solid process creates a pool of data-backed ideas you can return to again and again.
Adopt professional publishing standards for your content marketing efforts. The details that separate newspapers, magazines, and books from your blog posts or whitepapers can undermine the perceived authority of your content. Small changes can have a huge impact.

Aura Geffen
I loved the refreshing aspect of creating content which is meaningful, not repetitive or made just for the sake of performing well on search engines.

Joseph Logan
This course helped me to avoid doing unproductive things. You can find plenty of growth marketing tactics all over the place, but until they have the context of a thoughtful strategy and framework, tactics alone don't get the job done. CXL are masters at establishing a strategic view that leaves no questions about what you get for your marketing efforts and investment.
Learn how to consistently create content with real value for readers… and the business
Small changes can have a huge impact. Adding just a bit of context to the typical data used in content research can help you surface great content on any site (not just mediocre content on great sites). A few tips from the professional publishing world can also help you find the right angle to produce original, valuable content that also aligns with company goals. You don't have to sacrifice one for the other.
You'll know that a topic will work before you invest weeks in content creation. You'll feel confident that you're offering new, useful information to readers (not just mashing up the top results from Google). And you'll be able to prove content marketing success for any metric your company cares about.
This course is essential for you if …
You've spent money on content marketing—but have yet to get (or prove) results.
You want a reliable process to consistently identify topics that earn links and shares.
Your content marketing "program" is little more than haphazard keyword research and uninspired blog posts.
This course is NOT for you if…
Your content marketing strategy is already locked in to a simplistic framework of short, derivative, keyword-targeted blog posts.
You're an agency partner or freelance writer who has no influence on topic research or KPIs.
You already have expertise in content marketing, SEO, and professional publishing.
Skills you should have before taking this course
This isn't a "Blogging 101" course, however it doesn't abandon beginners entirely.
The lessons and strategies are for individuals who want to see content marketing reach its full potential—with companies delivering the authoritative content on a topic.
Derek Gleason
Content Lead @ Shopify
Derek is Content Lead for Shopify. He's responsible for publishing about 90 long-form posts per year on data-driven marketing, while also maintaining and improving a library of nearly 700 posts.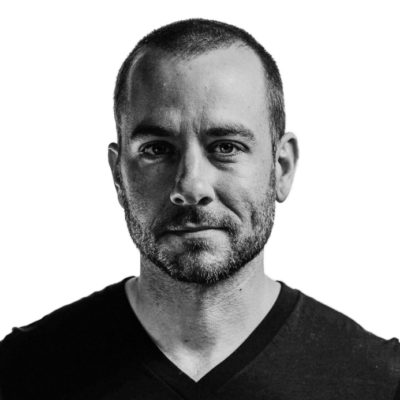 Derek is Content Lead for Shopify. He's responsible for publishing about 90 long-form posts per year on data-driven marketing, while also maintaining and improving a library of nearly 700 posts.
Prior to joining Shopify, nearly four years were spent at a digital marketing agency, delivering content marketing strategies and managing SEO for organizations like Land O'Lakes, Twitter, and Virginia Tech.
Your full course curriculum
Content marketing research
There are millions of topics you could cover, but which makes the most sense for your brand? And what's likely to deliver the highest ROI for your company?
Topics Covered:
Overcome the burden of historical content marketing "strategies."
Identify that one question that you're best able to answer.
Create content that helps search engines understand what your content—and your company—is about.
2
How will you distribute the content?
Just because you publish it, doesn't mean they'll come. The earlier you think about distribution, the better. Learn to frame content to make it more searchable, shareable, and linkable.
Topics Covered:
Identify the content that people wish they could link to or share.
Understand how editorial choices can help scale that audience.
Feel confident that content will succeed before you ever start creating it.
Traditional content research looks only at absolute numbers of links, shares, or traffic. But unearthing the best opportunities requires adding a bit of context. Discover how to fold that ultra-valuable analysis into your content audits.
Topics Covered:
Learn how to audit your site's existing content.
Learn how to audit competitors' content.
Learn how to audit industry content.
4
Identifying themes and topics
What do you do with all that spreadsheet data? Learn how to distill data points into relevant themes, then translate those themes onto the highest-value content ideas for your site.
Topics Covered:
Know how to code your content.
Distill your coded list into themes.
Map themes onto potential topics for your site
5
Translating topics into strategy
Great ideas poorly executed won't get you anywhere. Learn the keys to ensure that you execute effectively on your great ideas—over and over again.
Topics Covered:
Learn to avoid the trap of derivative content.
Keep from over-investing in content production.
Know the pros and cons of "evergreen" content.
Show off your hard-earned skills and strengthen your profile.
LinkedIn found that people who add credentials to their profile receive 6x more profile views than those who don't.
Add your certificates to your profile, share your accomplishments with the world, and join our alumni network.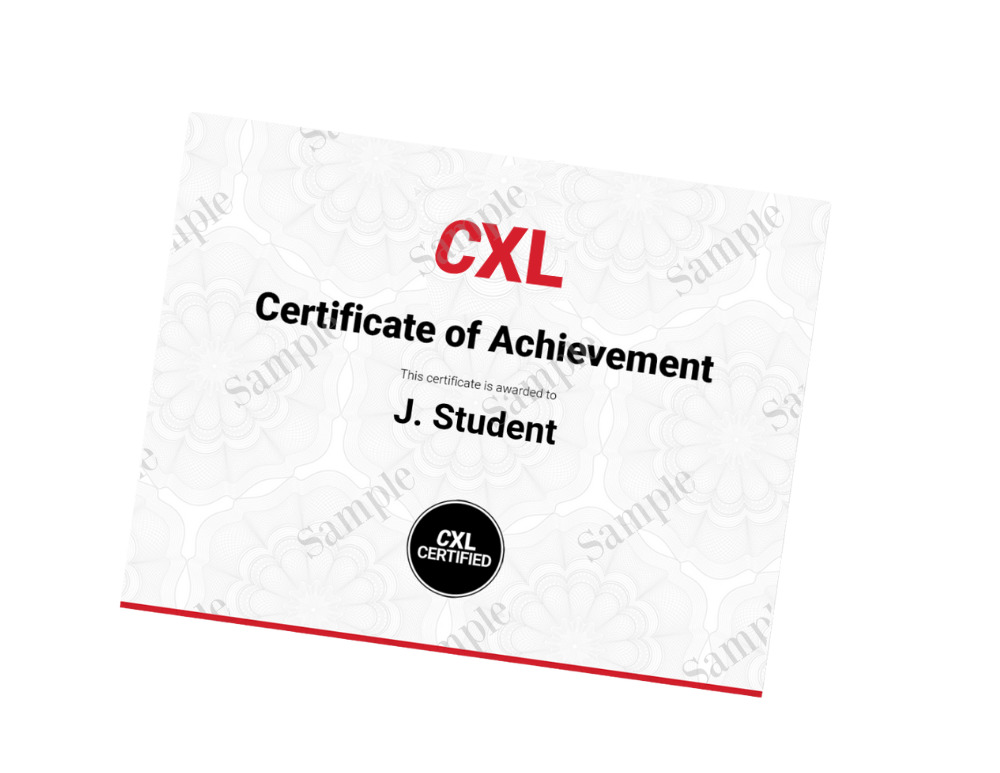 Learn marketing on the job.
Get better results with networking.
Playbook community gives you peer support for every marketing task you face. 90% of marketing tasks are not unique. Someone has already figured it out. Achieve more with less hassle.
Access our library of thousands of marketing playbooks, each showing you how to do a specific marketing task in 10 steps or less, with real-time peer support.
Join our community of marketing experts, ready to support you in getting that promotion or master new strategies, skills, and channels.
Network with some of the world's best marketers and companies and get noticed, hired, or endorsed.
Subscribe to CXL and get access
90+ courses (full list here) on all aspects of data-driven marketing (new courses added every month)
10 minidegrees that give you advanced level skills
Playbook community with 2500+ instructions and peer-support
Got a team, multiple users? Get our Teams All-Access plan instead.
The CXL guarantee
7-day no questions asked money back period
You can immediately apply learnings and improve your results.
Need help convincing your boss?
Click here for a pitch deck, swipe files and tips.
Subscribe to CXL
All plans come with a 7-day trial for $1.
Get access to this and 90+ other training programs.
See plans and pricing
or
Request demo (for teams 5+)
---
This course is available in the following minidegrees: