Become great at analyst relations
Learn to leverage strategic analyst relations to accelerate your product marketing program and goals.
Course length: 1h 18min
Start 7-day trial for $1
Maureen Todaro
Independent Consultant
Some of the companies that train their teams at CXL:



"Over 80% of buyers cite analyst reports and private analyst consultations as the top drivers in their purchasing decisions." (source: PRWeek, "Tech Companies Should Spend Less on PR and More on analyst relations", May 4, 2020). Therefore, winning analysts' mindshare and incorporating analysts' insights and third party validation into your programs is an essential business move.
After taking this course you'll…
Understand how a strategic AR program will bring essential market intel and 3rd party credibility into all aspects of your product marketing program, and help to achieve company level goals.
Synthesize analysts' reports and analysts' insights then apply these insights to refine your product marketing strategy, competitive positioning, messaging, roadmap, pricing, target markets, channel strategy, customer journey mapping, GTM strategy, launches and promotions
Create and leverage commissioned AR work to meet the goals and objectives of sales and marketing
Predict where the market is going based on analyst insights, influence the product roadmap to meet customer needs, and create & maintain a competitive edge
Become a valued partner to your executive team on the company's growth and exit strategy by using market insights to identifying opportunities for acquisitions, partnerships, capturing market share, and defining/redefining the market.
This course is essential for you if…
You're a marketer who aspires to be among the company leaders who are identifying trends and applying market knowledge to successful strategies
You want to understand the competitive landscape of your market and how you can use analysts' insights to differentiate your offerings and market position
You want to be an essential part of your company's exit strategy team
This course is NOT for you if…
You have run a top tier analyst relations program in recent years. While this course will cover the essential elements and practices of a mature AR program, those who have run successful AR programs may find the majority of the teachings to be redundant with their own knowledge.
You do not see tech analysts at Gartner, Forrester, IDC or other firms as having an influential role in your market. If your buyers would not consult these firms to make a buying decision, this is an indicator that this course will not be useful to you at your current company. However, it may be useful at future companies.
Your company is the first mover, offering a new technology or solution, you have no competitors, and your company only has a few customers. Analysts do not cover single vendors – they cover markets. This means that if your tech/solution is very new and you have no competitors, then you are not part of a market and it may be too early to try to motive the analysts to create a new market category. Analysts should be engaged as you grow however.
Maureen Todaro
Independent Consultant
Maureen Todaro is a proven communications leader with expertise in analyst relations, customer marketing, and public and investor relations. In 2006 Maureen launched MSDM Communications and Marketing, a consulting business, which helps companies establish and grow analyst relations and customer marketing programs, including long-term partnerships with Nuance, Genpact, Jive (IPO'd), Twilio (IPO'd) and currently at InVision.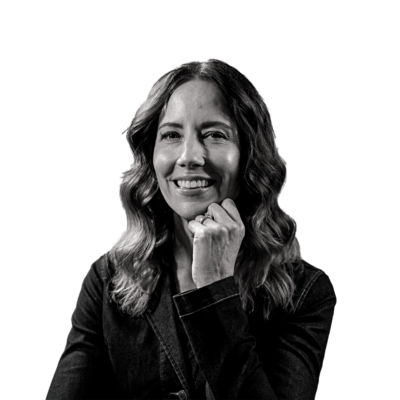 Maureen Todaro is a proven communications leader with expertise in analyst relations, customer marketing, and public and investor relations. In 2006 Maureen launched MSDM Communications and Marketing, a consulting business, which helps companies establish and grow analyst relations and customer marketing programs, including long-term partnerships with Nuance, Genpact, Jive (IPO'd), Twilio (IPO'd) and currently at InVision.
Prior to this, Maureen served as vice president of corporate communications for Viisage (now IDEMIA), was a customer advocate at ATG (now Oracle), acquired her MBA from Simmons University, and worked at Harvard University in their main development office.
Your course curriculum
Analyst relations
1
What's AR's Role in Product Marketing
Understand what AR is and how it helps product marketing in every aspect of the product strategy.
Topics covered:
Understand where AR fits in product marketing
Apply the knowledge of how analysts help to your unique product marketing program
Begin mapping AR into your product marketing strategy
2
Evaluating Firms and Analysts
AR programs are not one-size fits all. Learn how to select the right firms and analysts to partner with to achieve your strategy.
Topics covered:
Understand the various firms and options for creating the right AR program for your company.
Evaluate the firms and analysts for their fit with your goals.
Begin developing your AR database and benchmark data to track progress.
3
Align AR with Product Marketing Goals
Know how AR professionals work and align with them in order to optimize their value to your program.
Topics covered:
Learn about how AR services the entire organization.
Apply this knowledge to your Product Marketing program
Align with your AR team to achieve your goals and theirs
4
Create a Relationship Map
Map your organization to your key analysts to identify and develop mutually influential relationships.
Topics covered:
Understand the importance and role of company spokespeople in creating long term, influential relationships - Product Marketing's role is significant
Identify who are the right spokespeople to "influence the influencers", and commit to invest in spokesperson training
Map your spokespeople to your analysts - these are the relationships you need to develop, and this is the foundation of your program
5
Develop Relationships & Build Influence
Develop a knowledge exchange partnership with analysts to maximize influence.
Topics covered:
Understand the purpose of each analyst interaction and how they build on one another to influence the analysts' thinking.
Remember the purpose of each interaction is to build trust and listen for where you can align with the analysts thinking. This will translate into positive coverage and recommendations.
Devise unique ways to keep communications interesting.
6
Leverage AR Deliverables
Dive deeper into AR deliverables including reports, quotes, data and commissioned work to achieve goals.
Topics covered:
Plan to augment your marketing content and add third party credibility to your messages with analyst content.
Remember that this content can also be used to rally your colleagues around a new initiative or educate investors on the opportunity your company is tackling and hopefully poised to take the majority of market share in.
Start documenting that market conversations your company is poised to lead.
7
Influence Internal Thinking
Learn how to create a compelling narrative of where you see the product headed based on market insights.
Topics covered:
Use analysts' insights to get colleagues excited, educated, and ready to take action
Know what is available to you - data, forecasts and quotes - and integrate these into your messages.
Create a compelling story to gain support for your product and ideas using the analysts' insights and known/successful storytelling techniques
8
Benchmark and Measure AR Progress
Understand the various AR metrics that will demonstrate the impact of your program.
Topics covered:
Understand that mapping to your company and product goals to your AR program ensures that AR is strategic and delivers results that will have impact
Choose your AR benchmarks based on this mapping to know what is working and what is not
Review sample dashboards and consider the dashboard your company should design
9
Elevate Your Program to Tier 1
Learn how the most mature AR programs combine best practices for maximum internal and external impact.
Topics covered:
Know the pitfalls to avoid
Invest in an AR team
Know the best sources for finding a top notch AR leader
10
Augment Your AR Program
Learn about the AR services and groups that will help keep your program next level.
Topics covered:
Consider augmenting your AR program to invest in your people, mature your program, manage the workload and get extra help during competitive evaluations or other high stakes periods
Know the options for investing in your people, process and technology
Review a sample of external agencies, councils and software to augment your AR program.
Show off your hard-earned skills and strengthen your profile.
LinkedIn found that people who add credentials to their profile receive 6x more profile views than those who don't.
Add your certificates to your profile, share your accomplishments with the world, and join our alumni network.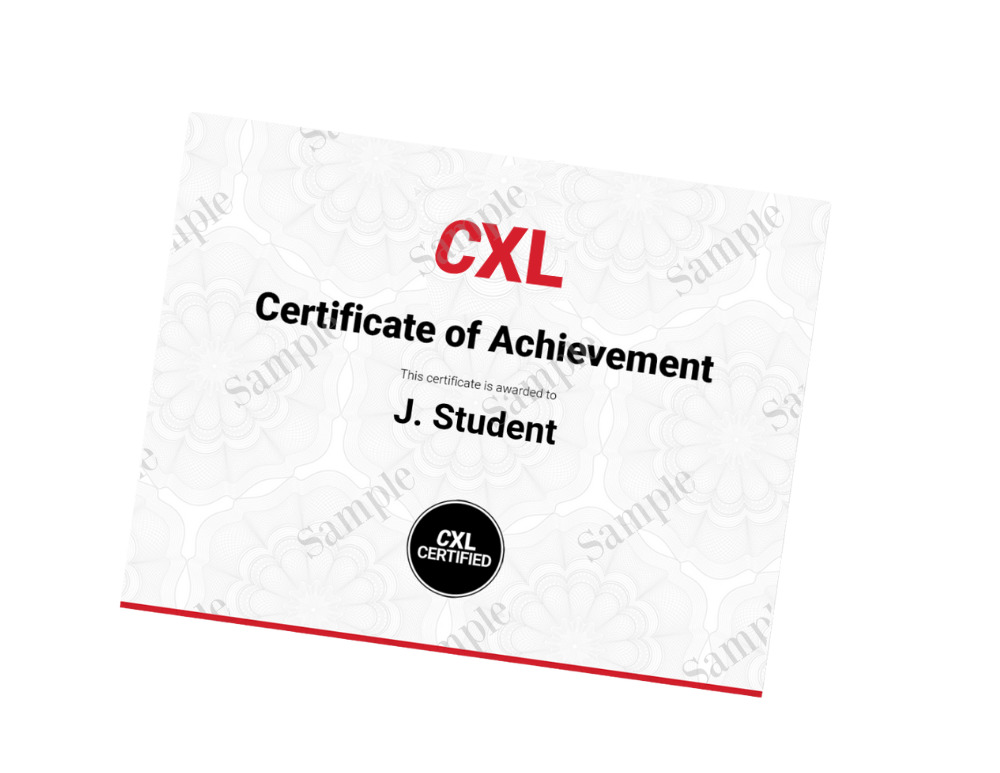 Learn marketing on the job.
Get better results with networking.
Playbook community gives you peer support for every marketing task you face. 90% of marketing tasks are not unique. Someone has already figured it out. Achieve more with less hassle.
Access our library of thousands of marketing playbooks, each showing you how to do a specific marketing task in 10 steps or less, with real-time peer support.
Join our community of marketing experts, ready to support you in getting that promotion or master new strategies, skills, and channels.
Network with some of the world's best marketers and companies and get noticed, hired, or endorsed.
Subscribe to CXL and get access
90+ courses (full list here) on all aspects of data-driven marketing (new courses added every month)
10 minidegrees that give you advanced level skills
Playbook community with 2500+ instructions and peer-support
Got a team, multiple users? Get our Teams All-Access plan instead.
The CXL guarantee
7-day no questions asked money back period
You can immediately apply learnings and improve your results.
Need help convincing your boss?
Click here for a pitch deck, swipe files and tips.
Subscribe to CXL
All plans come with a 7-day trial for $1.
Get access to this and 90+ other training programs.
See plans and pricing
or
Request demo (for teams 5+)
---
This course is available in the following minidegrees: