Become great at making user interfaces that persuade users to take action
Online course:
Fundamentals of persuasive websites
By Paul Boag,
Founding Partner @ Boagworks
Course length: 4h 00min
Start 7-day trial for $1
Some of the companies that train their teams at CXL:










This is not a design course.
It's a strategy course – what should go on your website
Designing and running websites can be incredibly frustrating. You see a large number of users visiting your site, and yet, so few of them take action. It's maddening!
This introductory course will teach you how to understand better the ways users think and leverage that to encourage them to complete your calls to action.
After just 4 sessions, you'll be able to
Understand psychology and how it influences our decisions.

Elicit trust through your website.

Build a user interface that persuades users to take action.

Write compelling copy.

Evaluate an existing webpage and identify ways it could be more persuasive.

Create compelling calls to action.

It was a great course, easy to follow and well presented.

I deal with landing page optimization, quality score, and ad copy on a daily basis as a PPC specialist. The course is very hands-on with great examples and case studies (Booking.com is my favorite). Highly recommended!
This class will give you all the tools and techniques…
…you need to understand what motivates your users, and how to turn that into specific changes you can make to your site.
These changes will allow you to motivate users into action, without alienating them in the process. By adopting this kind of ethical approach to persuasion, you can increase conversion, while also encouraging repeat business and word of mouth recommendation.
But most of all, you'll learn to avoid investing heavily in your site only to see disappointing results.

CXL helps optimizers and web designers recalibrate their approach when it comes to making changes to websites. I encourage anyone who is interested to enroll today.

This is one of those short courses that you can revisit to refresh, reinforce, or reference the fundamentals of persuasion, design, copy, and customer value.
This course is right for you if…
You run or build e-commerce sites and are looking to raise your conversion rate and average order value

You have landing pages that are failing to convert.

You would like to increase the number of people signing up to your newsletter.

You are keen to see your website generate more quality leads.
In fact, this course is for anybody who wants to encourage users to take specific actions when visiting your site!
This course is probably not for you if…
You already have extensive experience in sales and marketing techniques.

You are looking for quick fix persuasion techniques, no matter its impact on customer satisfaction.

You are not interested in building long term relationships with your clients.

You are unwilling to consider improvements that extend beyond changes to the user interface.
Paul Boag
Founding Partner @ Boagworks
Paul Boag works with an enormous range of organisations. Clients include Doctors Without Borders, UNICEF, Puma and GlaxoSmithKline. Over the past 24 years, Paul has improved user engagement and conversion rates across hundreds of sectors. He has writte …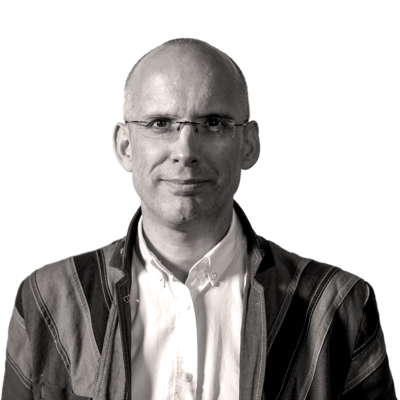 Paul Boag works with an enormous range of organisations. Clients include Doctors Without Borders, UNICEF, Puma and GlaxoSmithKline. Over the past 24 years, Paul has improved user engagement and conversion rates across hundreds of sectors.
He has written five books on user experience design and digital transformation and been podcasting since 2005. He is also a non-executive director at Smashing Media, who runs one of the largest blogs on digital topics.
After this course, you'll be able to…

Adopt an approach to persuasion that doesn't resort to manipulation and alienating potential customers.

Apply the psychology of human thinking to improve your conversion rate.

Write compelling copy that engages with users and encourages them to act.

Craft calls to action that users feel compelled to click.
Your full course curriculum
Fundamentals of persuasive websites
1
How to approach persuasion the right way
There are compelling techniques available to us with which we can persuade users to act. However, using these methods are not without their dangers. Use them unwisely, and you can alienate users and damage your brand. In this session, you look at how to approach persuasion in the right way.
2
Mastering the psychology behind being more persuasive
To persuade people to act you first need to understand their motivation. In this second session, you will learn how people think with an introduction to human psychology.
3
The secrets that will enable you to write more persuasive copy
Compelling copy is often the key to persuasion, yet most online copy is uninspiring and does not resonate with the audience. In this session, you will discover how to write compelling copy that motivates people to take action.
4
Make your calls to action more clickable

All too often, conversion rates are damaged when calls to action are overlooked or undervalued. In this session, you will be taught the design principles that will ensure users spot your calls to action and how to make them compelling.

Show off your hard-earned skills and strengthen your profile.
LinkedIn found that people who add credentials to their profile receive 6x more profile views than those who don't.
Add your certificates to your profile, share your accomplishments with the world, and join our alumni network.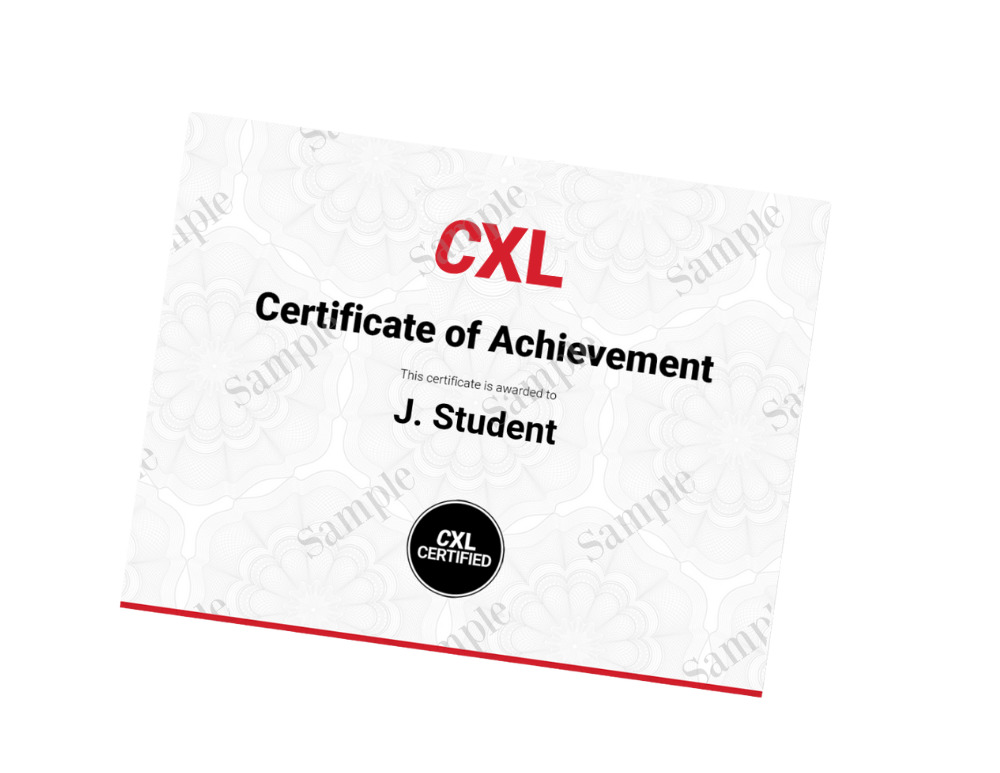 Learn marketing on the job.
Get better results with networking.
Playbook community gives you peer support for every marketing task you face. 90% of marketing tasks are not unique. Someone has already figured it out. Achieve more with less hassle.
Access our library of thousands of marketing playbooks, each showing you how to do a specific marketing task in 10 steps or less, with real-time peer support.
Join our community of marketing experts, ready to support you in getting that promotion or master new strategies, skills, and channels.
Network with some of the world's best marketers and companies and get noticed, hired, or endorsed.
Subscribe to CXL and get access
90+ courses (full list here) on all aspects of data-driven marketing (new courses added every month)
10 minidegrees that give you advanced level skills
Playbook community with 2500+ instructions and peer-support
Got a team, multiple users? Get our Teams All-Access plan instead.
The CXL guarantee
7-day no questions asked money back period
You can immediately apply learnings and improve your results.
Need help convincing your boss?
Click here for a pitch deck, swipe files and tips.
Subscribe to CXL
All plans come with a 7-day trial for $1.
Get access to this and 90+ other training programs.
See plans and pricing
or
Request demo (for teams 5+)